Bisque Victorian Bath Tub & Rose Petal Soap Set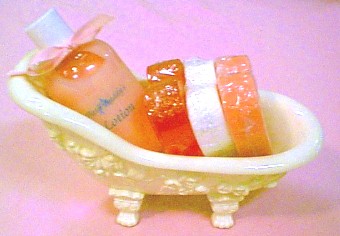 You save $2.50 when you order this set for only $17.50
This set includes one Victorian Bath Tub Soap dish that is ceramic.with very detailed roses and in the color of your choice (lavender, yellow, pink, peach, mint green, light blue)
this bath tub sells for $15.50 each.
This set also includes one 30 petal bag of rose petal soaps.
These sell for $6.50 per bag so when you order this set you are saving.
Please don't forget to let us know the color that you want.
Bath Tub and Soaps Set only $19.50 each
Rubber Duck on a Soap!
These cute little rubber ducks sit on a clear blue glycerin soap. They are only $3.50 each
Frog on a Soap!
This rubber Frog is sitting on a green pool of glycerin soap for only $3.50